Media 2 draft


Richard Somerton wins the Hobie Bream Series, St
Georges Basin round. Somerton used Cranka crabs in
Olive and Cockle colours to secure a convincing win
with an impressive lead of 1.26kg over his nearest rival.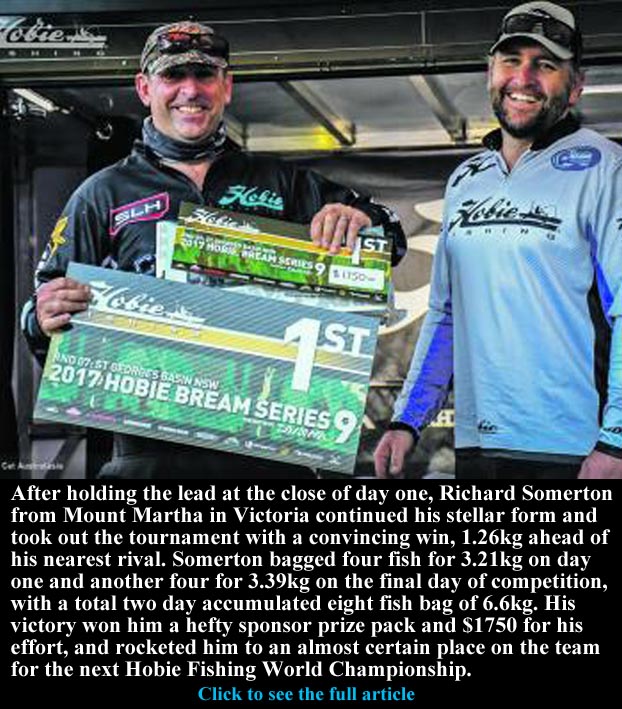 Mark Crompton finished in 1st place in the 2017 Hobie
Bream Series, Clyde River round. Crompton fished with
Cranka 65mm treble hook model crabs in colours Olive
and Brown to secure the victory!
Richard Somerton won his 2nd tournament for the 2017
season, winning the Hobie Bream Series, Mallacoota
round. Somerton spent the entire tournament fishing in
Dead Finish Bay, where he threw mainly Cranka Crabs
and Cranka Cranks to conquer the rest of the field!
Steve Morgan claimed victory at the Mercury Marine
Gippsland BREAM Qualifier, the second stop of the 2017
Costa BREAM Series. Morgan targeted any artificial
structure between Metung and Lakes Entrance throwing
a 50mm Treble Hook Model Cranka Crab in the Olive
colour. So confident in the lure was Morgan that he didn‰Ûªt
have anything else rigged up.
Richard Somerton took out the Daiwa round 1 of the Hobie
Bream Series for 2017 held at Marlo in Victoria. Somerton
stood out from the field during a tough tournament by
paddeling
a long way from the start line both days to a
secret location,
where he compiled his bags using a
Cranka 59mm Shallow
Minnow in colour Rusty Gold.
Steve 'Starlo' Starling - Well renowned fishing presenter
and journalist, explains some of the finer details about
how he likes to fish the Cranka crab. This is a great article
for anybody wanting to learn more about the most effective
ways to use these lures!
Liam Carruthers won the highly prestigious 2015 ABT
Bream Grand Final held on the Clarence River. Carruthers
threw heavy 5.9 gram, 50mm Treble Hook Model crabs
in the brown colour, all tournament! Liam made a pounce
from 6th place on the final day to take the win by a mere
60 grams!
Mark Crompton won his 2nd 2015 ABT Bream event in as
many
tournaments, taking out the Clarence River ABT.
Mark primarily threw 50mm Treble Hook Model Cranka
Crabs to take the win by over 400 grams! Second placed
Cameron Whittam also threw heavy model 50mm Cranka
crabs in a variety of colours... and the Non Boater division
was won by Grayson Fong who also threw Cranka Crabs
Richard Somerton took out round 6 of the Hobie Bream
series, held at Paynesville in Victoria. Somerton worked
pontoons, jetties and boat hulls with 50mm Treble Hook
Model Cranka Crabs colours Sand and Glow to take the
Win by more than 900 grams!
Mark Crompton stormed home on day 2 of the 2015
Tweed River ABT Bream event to seal his maiden ABT
win! Crompton predominatley threw 50mm Cranka Crabs
for the weekend and also managed to secure the
Austackle Big Bream for the tournament with a 940 gram
specimen.
Mark Crompton won his third ABT Bream Tournament
in less than 18 months, winning the ABT Forster Bream
Qualifier. Crompton fished the oyster racks that Forster
is most famous for and threw 50mm Cranka Crabs for the
entire tournamnet.